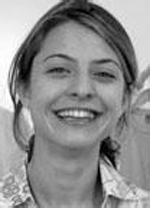 Elanna Allen is a designer, animator, director, writer and illustrator/ Allen designed the characters for the HDPS-series Sid the Science Kid.
Allen has designed and animated for several television shows such as Craig Barlett's Hey Arnold! and MTV's Celebrity Deathmatch. She was a designer on Nick Jr.'s Piper O'possum, among other Nick Jr. projects. Her short film "Low Down Underground" (also for Nickelodeon) won many awards, including first prize at the Chicago Children's Film Festival.
Allen studied animation at both the Czech National Film School and at RISD, and received a B.A. in fine art from Brown University.
External links
Community content is available under
CC-BY-SA
unless otherwise noted.