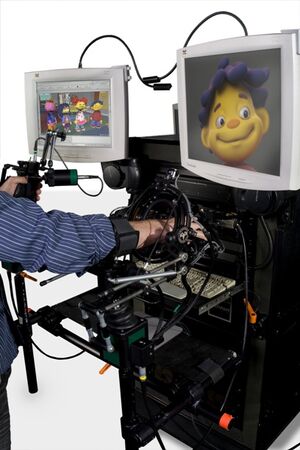 The Jim Henson Company's patented The Henson Digital Performance Studio or HDPS, allows puppeteers to bring digital puppets to life in real time. The system's combination of hardware and software allows a puppeteer (or a primary puppeteer and assistants) to perform live three-dimensional computer graphics as well as animatronic characters. In computer graphics applications, the system allows for an unprecedented level of spontaneity and interactivity when compared to conventional forms of computer animation.
The animation can be broadcast or streamed, taking advantage of either local digital networks or the global Internet infrastructure, and can be applied to web-broadcasting, computer games, television and film.
"

We're having, I got to say, so much fun; because we can improvise...What's great about puppets are that they are spontaneous, and what we're trying to do in our 3-D animation, is to really be spontaneous. So we're really working the material in front of the camera. And we have big projectors, so they can see what [the computer] sees. We're doing performed animation, and it's a lot of fun.

"

— Brian Henson [1]
Behind the scenes videos
Components
The system consists of three major components including mechanical hand controls, a control computer and a digital puppet workstation, which renders the live on-screen image of the character. The final product allows animation to be merged into computer-generated environments in real-time. The system's animated characters are also "directable," and therefore the animation can be used as a pre-visualization tool as well as a final product.
The technology also features virtual multi-camera capabilities that allow traditionally trained live-action camera operators to "shoot" the show within a virtual environment and a director to block and select camera angles and movements as needed.
"

The technology we've developed allows a puppeteer to puppeteer/perform a character that is being animated in real time...If you go into one of our puppeteer-animation sound stages, which there is only one of, you would see what feels like a real operating live-action set, and the puppeteers are performing – one puppeteer is performing the body, one is puppeteer is performing the head and voice – and what we're getting is these wonderful organic performances. The computer is not doing any animation. The computer is not allowed move anything; only people can move anything. So there's a camera operator, moving our virtual camera, and there are performers who are puppeteering the bodies and the heads of the character.

"

— Brian Henson [1]
Development
The HDPS is partially based on the company's earlier Henson Performance Control System (also known as "Big1"), various versions of which were developed beginning in the late 1980s to control complex animatronic puppets. The system consists of three major components: mechanical hand controls (still called a "Waldo"), a control computer, and a digital puppet workstation which renders the live on-screen image of the character. One version of the system won an Academy Award for Technical Achievement in 1993.
Jim Henson's first successful use of the the real-time technology he hoped to develop was with the character Waldo C. Graphic (though then, the final animation was touched-up by Pacific Data Images over the original puppeteered movements).
Awards
Academy of Motion Picture Arts and Sciences, Scientific and Engineering Award to Faz Fazakas, Brian Henson, Dave Housman, Peter Miller and John Stephenson for the Henson Performance Control System. (1992)
Laureate for Special Recognition, Computerworld Smithsonian Awards, Media, Arts and Entertainment category, to Jim Henson's Creature Shop, for the Henson Digital Puppetry Studio (HDPS). (2001)[2]
References
↑ 1.0 1.1 Brian Henson Interview - September 2005, WKRB West in Salt Lake City, radio interview
External Links
Community content is available under
CC-BY-SA
unless otherwise noted.