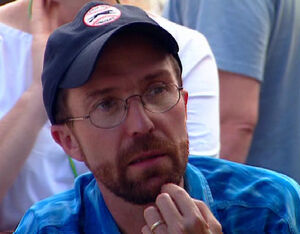 Jim Lewis is an Emmy Award-winning writer with a wide variety of writing and production credits within The Jim Henson Company.
Since 1985, when he first met and worked with Jim Henson, Lewis has been writing for the The Muppets, including a stint as writer/producer for the ABC television series Muppets Tonight, and such movie, television and theme park projects as It's A Very Merry Muppet Christmas Movie, MuppetVision 3D, and Kermit's Swamp Years. Outside the Muppets, Lewis has written for other Henson Company projects, in addition to work for the Rodgers & Hammerstein Organization, The Walt Disney Company, and others.
Lewis was brought in to develop the Henson Digital Performance Studio series Sid the Science Kid. Although he was a key player in the creation and development of the series, he took a smaller role in the actual production, writing several episode of series. Lewis discussed his role in the creation of Sid the Science Kid in a 2008 interview, stating:
"

I was the first guy in. I worked with an executive at Henson, someone I've worked with for years,

Halle Stanford

. They had an idea there for a science program – basically a pre-science, I forget what the exact term was, but it was to teach science concepts to pre-school kids... My involvement in that was I helped developed the show. I basically got it up to the point where it was sold to

KCET

, which is the public television station in Los Angeles... When they actually wanted to go into production, I realized I'm too old for this, I don't want to be a show runner – it's a lot of work. So I found someone that Halle and I had both worked with,

Bradley Zweig

, an enormously talented writer whose worked on a variety of things, I'm sure you can look up on imdb. He's very funny and has just the right sensibility and he's a lot younger than me, and more willing to work brutal hours for the 18-months it takes to do that kind of thing. And he ran the show and executive produced it with

Brian

and

Lisa

and Halle. And I wrote a few scripts, you know, and I feel part of it's my baby – but they deserve all the credit.

"

— Jim Lewis [1]
Digital Studio writing credits
External links
Cite error: <ref> tags exist, but no <references/> tag was found
Community content is available under
CC-BY-SA
unless otherwise noted.