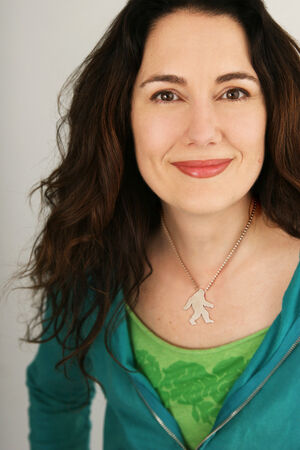 Julianne Buescher performed her first Henson character on the TV series Dinosaurs. Since then, she's become a Los Angeles based Henson regular, performing hundreds of characters in Henson's puppet shows (includng work with the Muppets), Creature Shop projects, and digital studio productions. Non Henson projects include the "Smile Time" episode of Angel (as Flora) and the film "Forgetting Sarah Marshall" (as the Angel in the Dracula musical). Most recently, Buescher can be seen as an founding member of Puppet Up! (Jim Henson's Puppet Improv), in which she performs numerous characters.
Buescher is one of the key puppeteers utilizing the Henson Digital Performance System, bringing real-time digital puppets to life. "Dawn the Fairy" (performed by Buescher) traveled the globe, introducing this new form of puppetry. She is also known for performing Coo on PBS Kids Sprout's Morning Block, Raisins on The Skrumps, and May and Grandma on Sid the Science Kid.
"

The fun is that I'm immediately performing and voicing an animated character...best of both worlds! And it's the greatest toy on the planet! I'd say the main advantage to being able to operate a digital puppet is purely one of technological edge. It isn't a "better" form of puppetry, just one geared and ready for what will be in demand in an increasingly digital world. HDPS is my first love and now that the characters are digital rather than animatronic, my programming of the emotions and precise facial muscle movement is even more detailed and expressive. I also enjoy the fun add-ons like wings, antenna, tail and ear movement!

"

— Julianne Buescher [1]
Digital Studio credits
Other performer credits
Sources
↑ An Interview with Julianne Buescher, The Muppet Newsflash
External links
Community content is available under
CC-BY-SA
unless otherwise noted.