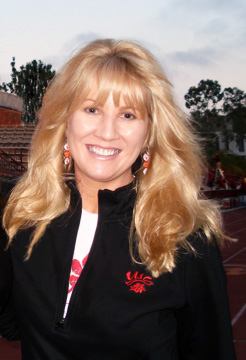 Kathleen "Katy" Garretson (born May 15, 1963, in Nuremburg, Germany) is a television director whose directoral credits include Frasiers, Freddies, George Lopez, and True Jackson, VP. Garretson, who has directed more than 50 live-action prim-time sitcom episodes, served as a director for several episodes of the HDPS-series Sid the Science Kid. Garretson had never directed a children's show, much less an animated one, when she tackled her first episode of Sid the the Science Kid.
"

I was petrified coming into the show. It's different from anything I had seen before, and it was daunting. I thought I had a lot to bring to it, with my comedy background, but wondered if I could grasp this technology. You learn to look at the monitor [and not the stage] when everything is coming together. It takes a strong imagination to do a show like this. You don't see it when you look at it. You have to see it in your mind. When I'm giving direction to a character, I'm talking to the mocap actor doing the body and the puppeteer doing the face and the voice. But that started to become second nature.... The cameras can do so much more. It's like having mini Techno cranes that can go under, around in circles…things you could never imagine doing in a sitcom. The creativity is huge in terms of what you can do visually. And the puppeteers did such wonderful improvisation... They told me they wanted to try a live-action person, they wanted a sitcom style. The show is about kids, families, friends and school -- they wanted someone familiar with working with actors. The script they gave me looks like a regular sitcom script, but the difference is when you walk onto the stage. There's no sets, no dressing rooms, no cameras. They were there, but in different forms.

"

— Katy Garretson [1]
Digital Studio directoral credits
References
References
External links
Community content is available under
CC-BY-SA
unless otherwise noted.