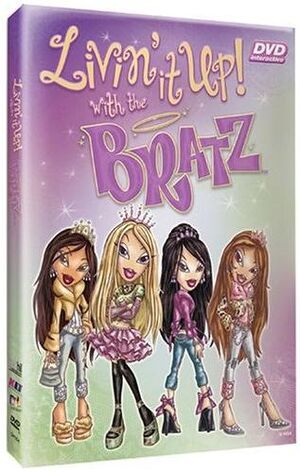 Livin' It Up with the Bratz is an interactive DVD based on the popular Bratz doll franchise. The "choose your own adventure"-format DVD allows viewers to using their remotes and decide whether the Bratz foursome will put on a Broadway show or a talent show, create a pop or rap music video, and determine the format of the yearbook. With two to six distinct paths at each choice point, the 75-minute DVD features a multitude of possible outcomes.
The Bratz were brought to life with the aid of The Jim Henson Company and the Henson Digital Performance Studio. Henson was involved with the motion-capture aspects, while additional effects were provided by Extra-Large Technology, Inc.
The DVD was released in 2006.
Plot
The beginning of a new school year is a time of anticipation and opportunity and it's up to viewers to help Bratz girls Cloe, Sasha, Yasmin, and Jade choose this year's activities.
Cast