Sid
is the star of
Sid the Science Kid
. Sid is the eldest child of
Mort
and
Alice
, and the brother of
Zeke
. Sid's most prominent character traits include observing, questioning, and general inquisitiveness. Sid is one of four students enrolled in
Susie's
class.
One of Sid's favorite items is his toy microphone. He uses his microphone to deliver stand-up routines to his stuffed animals (including his large stuffed dinosaur Arnie, and his bat-and-wobble penguin Dr. Beaks). The microphone has a buttons to deliver pre-recorded laughter and applause and an echo-effect - features he often uses to punctuate his delivery.
Sid's mother drives him to school each day, and his paternal grandmother picks him up at the end of the day. At school Sid plays with his Best Friends - May, Gerald, and Gabriela. While playing on the playground, Sid will often survey his friends on different topics as part of "The Sid Survey". He also participates in "rug time" discussions, keeps a science journal noting the results of classroom experiments in the Super Fab Lab, and will role-play and play dress-up with the other students during playtime. Sid occasionally has play dates with Gabriela or May after school.
Sid comes from a ethnically-mixed family; his mother is an African-American Christian and his father is Jewish. Sid's family celebrates Christmas, Hanukah and Kwanzaa. Sid's paternal Aunt, Aunt Irene, lives in Minnesota.
Behind the scenes
Sid is brought to life by Drew Massey and Misty Rosas. Massey puppeteers the face of the character and provides the voice, while Rosas provides the motion capture body movement of the character. Sid's personality was originally based on executive producer Halle Stanford's son Max.[1] During early development of the series, the character was named Josh.[2]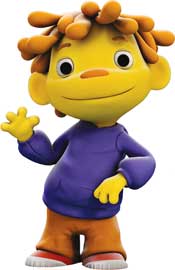 References
Community content is available under
CC-BY-SA
unless otherwise noted.