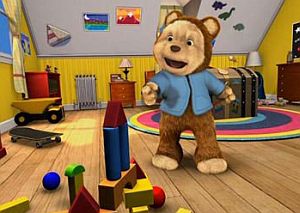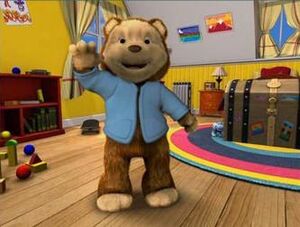 TJ Bearytales is a series of home video productions utilizing the HDPS system. A team of digital puppeteers and motion capture performers brought the fun and educational world of Hasbro's signature line of storytelling teddy bears to life. Planned to be packaged with the Hasbro TJ Bearytales toys, the DVDs would provide video of the teddy bears in action.
The key to entering fantastic worlds of adventure can be found when TJ opens his Grandpa's Toy Box and uses a little old-fashioned imagination.
In 2007, Hasbro announced a partnership with The Jim Henson Company to produce two 3-D animated videos based on TJ Bearytales. The videos were said to be musical comedy adventure stories.
"

With T.J. the bear, PLAYSKOOL created a delightful and engaging character so we are excited to now develop the T.J. Bearytales world further and bring it to life using our revolutionary technique of puppeteered animation.

"
Two titles were announced for release in late 2007/early 2008; however neither have been released. In My Beary Colorful Adventure TJ celebrates the magic of imagination, teamwork and the true gift of story. In My Beary Outer Space Adventure, TJ will take his friends on a rocket ship ride into outer space where they discover that aliens are only alien until you get to know them.
Currently, the only clips available from the videos are seen in the "Jim Henson's Creature Shop Reel."
External links