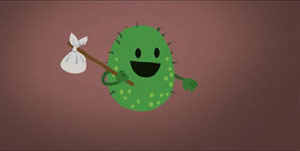 "The Journey of a Germ" is an original song featured in the Sid the Science Kid episode "The Big Sneeze" and "Getting A Shot: You Can Do It!". The song, sung by Susie, Sid, May, Gerald and Gabriela from the point of view of a germ, tells the story of a germ who travels all around the world.
Lyrics
I WAS MINDING MY OWN BUSINESS
LIVING IN ROBERT'S NOSE
I'M JUST A TEENY TINY GERM
HERE'S HOW MY STORY GOES

I'M ALWAYS READY TO TRAVEL
THOUGH MY TRIPS ARE NEVER PLANNED
IT WAS TIME TO HIT THE ROAD
WHEN ROBERT SNEEZED INTO HIS HAND

(GABRIELA) SO HERE COMES HIS OLD BUDDY BILL
HIS HANDSHAKE WAS SO FIRM
I CLIMED ABOARD HIS HAND
AND WENT ON A JOURNEY OF A GERM

(GERALD) NOW BILL HE NEEDED MILK AND EGGS
SO WE WALKED INTO THE STORE
HE LEFT ME ON THE DOORKNOB
WHEN HE OPENED UP THE DOOR

(MAY)CORINA TOUCHED THE DOOR
AND SAID HELLO TO MR. SANDS
THEY CHATTED BY THE VEGETABLES
SHE FORGOT TO WASH HER HANDS

MY NAME IS SHELDON SHERMAN
MOST PEOPLE CALL ME SHERM
I WAS TRAVELING WITH CORINA
ON MY JOURNEY OF A GERM
(May, Susie and Gerald) HAND TO HAND
(Sid and Gabriella) HAND TO HAND
(May, Susie and Gerald) HAND TO HAND
(Sid and Gabriella) HAND TO HAND

(ALL) THAT'S THE WAY I TRAVEL

(SID) CORINA BOUGHT A TICKET
AND SHE HOPPED ONTO THE TRAIN
THE CONDUCTOR SHOOK HER HAND
AND SAID ENJOY YOUR RIDE TO MAINE

WE GOT OFF IN BANGER
WE WERE HAPPY TO
ARRIVE (GERALD) THE CONDUCTOR MET THE MAYOR
AND GAVE HIM A BIG HIGH 5

(SID) THE MAYOR SHOOK HANDS WITH A SENATOR
RUNNING FOR A SECOND TERM
AND HE SHOOK HANDS WITH A MAJORETTE
ON MY JOURNEY OF A GERM

(GABRIELA) THE MAJORETTE WAS AT A FOOTBALL GAME
HER BATON HAD HARDLY TWIRLED
I'D GIVEN HER A COLD
AND TRAVELED HALFWAY AROUND THE WORLD

SHE SNEEZED INTO HER ELBOW
I THOUGHT I WAS GONNA CRY
SHE WASHED HER HANDS
NO THE WATER AND SOAP NO
(BYE GOODBYE GOODBYE)
Credits
Releases
Community content is available under
CC-BY-SA
unless otherwise noted.