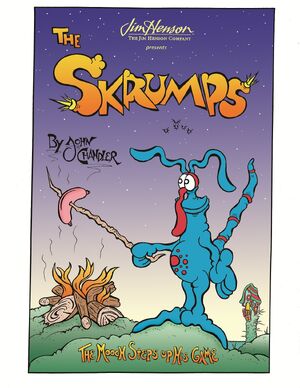 The Skrumps: The Mooch Steps Up His Game is a full-length comic book based on The Skrumps and written and illustrated by creator John Chandler. The comic was produced by Archaia Comics and The Jim Henson Company.
First introduced as a bonus strip in Archaia Press's Fraggle Rock: Volume 1 hardcover collection, this one-shot issue explores the world and characters of The Skrumps. The comic was released on May 2011.
Plot
The Mooch finds that his mooching ways might not make him as cool as he thought he was, and he gets rejected by all the Skrumps. So, he decides to start giving back by adopting an unusual pet in need of a home. But he's in way over his head as he realizes this is maybe too much for a Skrump like him to handle.
Community content is available under
CC-BY-SA
unless otherwise noted.