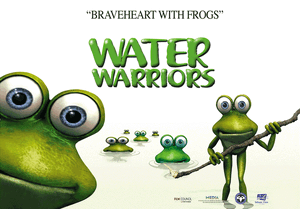 Water Warriors is a science-fiction film originally planned to be produced by Silver Fox Films and The Jim Henson Company using the Henson Digital Performance Studio with animated characters puppeteered in real-time.
Working from an original screenplay by Graham Ralph, The Jim Henson Company, under the leadership of Brian and Lisa Henson, signed on to co-produce the project in 2003. Ralph was attached to direct the feature while the screenplay was rewritten with the help of Kirk Thatcher.
Water Warriors, described as "Braveheart' with frogs", tells the story of a young frog called Dudley, the smallest frog in the pond. When aliens crash land in their pond, they enslave the pond creatures to help raise their spaceship and then plot to remove all the world's water! Dudley and a group of motley outcasts are the only ones left to thwart their master plan.
Test footage
A short test piece featuring some of the characters was produced in the spring of 2003 to showcase the technology, test the characters and serve as an early teaser reel. The footage featured Dudley, the film's young frog star, dancing with a worm.
The piece was shown at the 2005 San Diego Comic-Con to promote the film. Lisa Henson explained to the audience that the frog was "performed live" by a puppeteer using motion capture technology. Kirk Thatcher added, "The worm was performed live, too," whereupon Halle Stanford joked, "Yeah, we found a trained worm and put a motion-capture suit on him."
Brief excepts from the test piece are included in the Creature Shop's demo reel located on their website CreatureShop.com.
Depature from Henson
As the budget soared, the producers were unable to get any adequite breakthroughs with the major studios, distrubutors and other financers needed. As Graham Ralph described the situation, "we learned that most mainstream studios love to play with their own toys rather than someone else's."
Since then, Ralph and the film parted from the Henson company and the project was brought to Europe, partnering with executive producer Steve Walsh.
The script was rewritten (yet again), and Ralph is currently working on producing the film with a UK-based CGI company called RedVision who have several of the old key players from Henson's now-dissolved London Creature Shop. The producers are still hoping to involve the same style of digital puppetry with a system similar to that of the Henson Digitial Performance Studio.
In January 2009 Graham Ralph said, "We are confident that we will get the project made." As of December 2009, the production company's website listed its status as "early preproduction" and still lists Henson as a co-producer.
External links